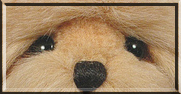 Teddy bear eyes are what give bears their personality, but what do you use for bear eyes?
When the first teddy bears made in the early 1900's in both the United States and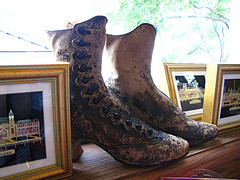 Germany at the same time, the bear makers used leather covered boot or shoe buttons for his eyes.    But eventually, shoe makers started using laces instead of buttons, and teddy bear makers had to find a replacement to use for those beautiful soul searching eyes.
Many teddy bear factories started using amber or glass eyes, shaped just like a boot button.  Later, in the 1950's, manufacturers started using plastic safety eyes instead of glass eyes because of the danger.  A child could  pull a glass or boot button eye off his teddy bear and swallow it!
Glass teddy bear eyes and sometimes even antique shoe buttons are still used today in teddy bears for collectors.  They just bring so much more life and personality to the bear than plastic eyes do.
Where is the world do you find glass teddy bear eyes?  Antique shoe buttons?  Well, it is hard to find them in local craft stores.  If you are lucky you can find the plastic safety eyes there.  Thank goodness for online shopping!  You can find many types of teddy bear eyes from teddy bear suppliers around the world .  You can even buy teddy bear eyes on eBay.
Maybe you want to use antique shoe button eyes on your bears?  I have found them by poking around in antique stores - and of course it is so easy to buy antique shoe buttons on eBay
too.