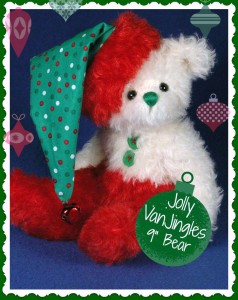 Please meet Jolly VanJingles - one of Santa's teddy bear elves.
He 9" tall, 7" sitting. He has a bent leg design and is designed to sit.
Jolly VanJingles also has bent arms.
He is easy to make as does not have foot pads or paw pads,
and he is all dressed up for Christmas!
I have just added the pattern and class for my bear "Jolly VanJingles" to Teddy Bear Academy.  His pattern is free to members and will not be available anywhere else.  The only way to get Jolly's pattern is to join Teddy Bear Academy and get it for free.
The regular price of membership will eventually be $14.95/ month, but I am offering membership at an introductory rate of $7.95/month.  Your rate will be locked in when you sign up regardless of future price increases.  Cancel anytime!  See the FAQ link on the website.
You can sign up right here:  Join TBA Today
Next month  the Teddy Bear Jointing class will be added.  See the list of upcoming classes here!