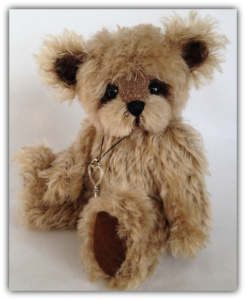 Are you a beginner when it comes to making teddy bears?  Are you overwhelmed and don't know where to begin?  Have you made teddy bears before, and would like to again but can't seem to find the time?
I find that by breaking the different steps of making the bear up into sections, it gives me a natural "break time".   If you look at bear making as a number of short steps, you will realize that you can work on your teddy bear in short 30 minute segments if you like.  Before you know it, you will have done a number of 30 minute segments and you will have finished your teddy bear!  I also find I get my bears done faster as I don't procrastinate as much.
Here is how I divide my bear making up.  Some of the steps may be longer than 30 minutes, but you can always break up a step into a few 30 minute segments.
Pattern Preparation (I either glue the pattern pieces onto thin cardboard like a cereal box to make the pattern pieces more sturdy.  You can also trace the pieces onto clear quilter's template for a longer lasting pattern.)
Figure out what direction the fur lies, mark an arrow on the back of the fabric so you can keep track of it and trace the pattern pieces onto the back of the fabric.
Cut out the pieces
Match &  pin the pieces together to prepare for stitching.
Sew the pieces together.
Apply Aleene's Stop Fraying to seam openings & let dry.
Turn pieces right side out.
Stuff the head, stitch the nose, close the neck and insert eyes.
Trim the muzzle
Insert the joints into the arms and legs & stuff.  Close seam openings.
Attach the head and limbs to the body.
Stuff the body and close the seam opening.
Add the ears, do finishing touches on face and add a ribbon and you are done!
Would you like help with your bears?  Join Teddy Bear Academy for an all access pass to teddy bear making videos and ask me your bear making questions!  Join here: https://classes.teddybearacademy.co/pages/join-today