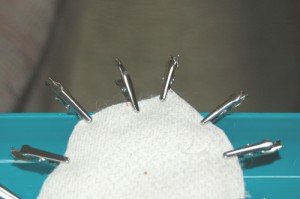 Do you have problems with your mohair fabric shifting when you use standard pins to pin your fabric together? Maybe I'm the only one... but I just could not get the fabric to stay flat together... until....
I started using alligator clips! These little beauties work wonderful for me. They don't put any holes in your fabric either.
You can usually find these in the electrical section of your hardware store or at Radio Shack. If you have trouble finding them, ask at the front counter. Some stores have moved them behind the counter because of the popular use as "roach clips" LOL! If you still have problems finding them, you can often find them on eBay HERE.