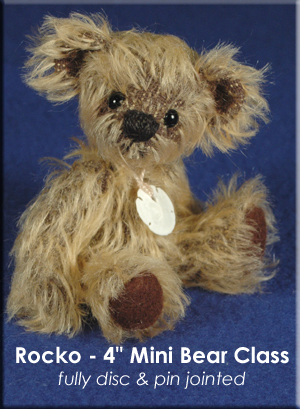 This video teddy bear workshop will show you how to make Rocko, a 4" miniature fully jointed mohair bear.
Don't have a sewing machine?  Don't let that stop you!  This workshop will show you how to hand sew your teddy bear with detailed video instruction.  (It can be sewn by machine if you prefer)
In this  streaming video class I will show you step by step how to cut out, hand sew, insert disc and pin joints, stuff and close the limbs, stuff the head, stitch the nose, insert the eyes, attach the ears and add your finishing touches.
Any time - day or night.   You have access to your class 24/7, as long as your membership is current.    The class is layed out in a weekly format, but you can go as slowly or as quickly as you like.
You can take this video class and all of the other classes inside Teddy Bear Academy when you join here.
Check out the bears that other students have created!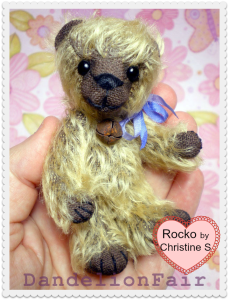 ---
SUPPLIES:
*7" X 9" piece of 1/2" ultra sparse mohair (I used Intercal's 300S/color 423SD - Honey tan w/dark back)
*2" X 2" piece of felt (footpads)
*5 Mini T cotterpins   *Be sure to get mini T-cotter pins as regular mini cotter pins have a loop that will not work for this small of a pattern.
*6 - 1/2" joint discs
*4 - 3/8" joint discs
*5mm black glass eyes (1 pair)
*Artificial sinew (or strong waxed floss)
(For eyes & closing head)
*Pearle cotton (for nose & mouth)
*Upholstery thread to match fabric backing
(for hand sewing, closing seams & attaching ears)
*Fiberfill
*Stainless steel mini shot or glass beads (optional)
Don't know where to find your bear making supplies?  Click here for a list of online bear making suppliers.