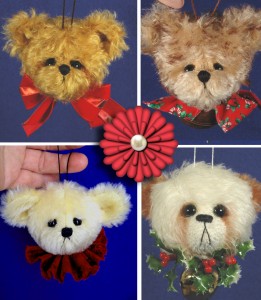 This  teddy bear workshop will show you how to make a teddy bear ornament that will look great on your tree.  There is no need to stop at one, teddy bear ornaments are a great way to use up mohair scraps and make a wonderful gift too!
Don't have a sewing machine?  Don't let that stop you!  This workshop will show you how to hand sew your teddy bear with detailed video instruction.  (It can be sewn by machine if you prefer)
In this 5 part streaming video class you will learn how to hand sew, stuff the head, stitch the nose, insert the eyes, attach the ears and add your finishing touches.
This class can be completed at your own pace.  If you have to stop, you just log in when you can come back, go back to the class page and click on your next lesson!
Unlimited Access:  You will have unlimited access to this class until December 12th.
---
Check your email after subscribing for the link to your FREE class!
(Email should arrive within 15 minutes.  You may have to check your junk email folder)
See What Our Students Have Created!
SUPPLY LIST
6" x 9" piece of mohair (I used 3/8" straight mohair for the one in the video)
8mm black glass eyes (1 pair)
Artificial sinew (or strong waxed floss)
Pearle cotton (for nose)
Upholstery thread (match fabric backing)
All purpose thread (if machine sewing - match fabric backing)
Fiberfill
Aleene's Stop Fray
Toothpick
Coordinating fabric for ruff (1 1/2" x 24")
Jingle bell
BASIC TOOL LIST
You don't need to many tools to make this teddy bear ornament.
Sharp scissors
Pins
Sharpie (or other marking pen)
Needle nose pliers
Sharpened chopstick (or awl)
Stuffing tool (eraser end of a new pencil works well)
Needles:

#16 Milliners needles - hand sewing
3" soft sculpture needle - nose
5" long doll needle - eyes and hiding threads