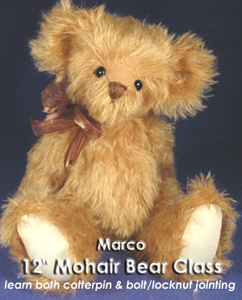 Kits for making Marco are available in several colors for $25 + $6 shipping (US).
Shipping to Canada is $10, Rest of the World $15 - via US First Class Mail
Each kit includes the mohair, paw pad fabric, pearle cotton for the nose & mouth, glass eyes, artificial sinew &  joint assemblies (I will include both cotter pins and bolts and lock nuts as we will go over pros and cons of both.)
Here is a photo of the colors available.  The color may not be exact as the color on computer monitors does vary.
Be sure to mention what color you want when you check out.
*Rust & White colors are now sold out*