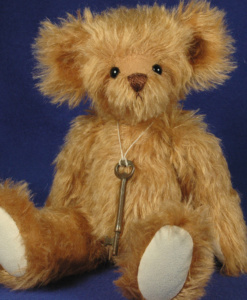 6 Week Online Video Teddy Bear Making Class: 
Marco - a 12″ Traditional Teddy Bear - Step by Step
$35
You will receive your Username & Password within 24 hours of purchase (often much sooner).  You will then have 6 week access to the Marco Teddy Bear Making Video Class.
In this online streaming video class I will show you step by step how to: cut out,  sew,  perfectly fit the footpads and head gusset, how to insert disc and pin joints and bolt and lock nut joints stuff and close the limbs, stuff the head, stitch the nose, insert the eyes, attach the ears and add your finishing touches.
Watch ANY time, as MANY times as you like during your 6 week class.
12" Teddy Bear Pattern Included!  You can download the pattern as soon as your start your class.  Directions on downloading and printing out patterns will be included.
Access to Laura Lynn:   Ask me any questions you have about making Marco inside of the classroom.
You will need to purchase the following supplies.  
You can find a list of Teddy Bear Making Suppliers here.
Fat ¼ yd of 1" sparse, straight mohair
4" x 8" piece of wool felt or ultrasuede
10mm black glass eyes (1 pair)
2 – 1 ¼" Joint discs
4 – 1 ½" Joint discs
4 – 1 ¾" Joint discs
Jointing hardware of choice
(5 T-cotterpins, or 1 T-cotterpin & 4 bolts 1/8" x ¾")
10 metal washers to use with cotterpins or bolts
Artificial sinew (or strong waxed floss: For eyes & closing head)
Pearle cotton (for nose & mouth)
Upholstery thread to match fabric backing (for hand sewing & attaching ears)
Fiberfill
Stainless steel pellets (optional)
BASIC BEAR MAKING TOOLS
What Tools Do I Need to Make a Teddy Bear?
You will need just a few basic items to start making teddy bears.  If you decide you really enjoy it, you can upgrade if you like.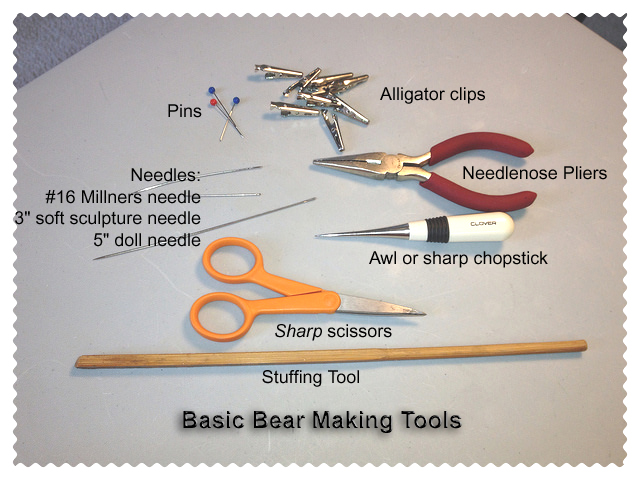 Needlenose pliers
Awl (or sharp chopstick) for making small holes for joints and eyes
Stuffing tool (un sharpened pencil or end of wooden spoon works fine)
Scissors (I prefer Fiskars Softouch Micro-Tip Scissors)
Pins (or alligator clamps – I like these better than pins because the fabric does not shift as much for me)
NEEDLES:

#16 Millners needle for closing seams & handsewing
5″ long doll needle for eyes and hiding threads
3″ long soft sculpture doll needle for nose

OPTIONAL:  Sewing machine ( you can sew by hand if you don't have one)